Hammered Textured Rings 29th June 2019
Commitment Rings
Saturday June 15 2019
Loved Tracy's workshop. She was so organised but at the the same time really relaxed and nothing was too much trouble. She guided us though the process easily and we were amazed with what we managed to make. Our rings are beautiful!! The other thing I loved (other than her coffee)was when you solder something together. There's this moment when it's like alchemy- the solder suddenly disappears in between the two metals. Amazing, it was really cool to see!!! Scott Pollock
Hammered Pendants Workshop Saturday May 18th 2019
I have participated in 3 of Tracy's jewellery workshops now and I have thoroughly enjoyed them all. In each, I felt challenged and inspired to learn a whole suite of new skills. With Tracy's guidance, creative energy, ideas and encouragement I was able to produce beautiful bespoke pieces - 2 bangles, a bracelet and a pendant. I wear them all with pride. I now have a much greater appreciation of the detailed work, skills and precision required.
Thank you Tracy for your patience, perseverance, assistance and good humour throughout the workshops. I'll be back!
Warm Regards Jenni.

Hammered Pendants Workshop Saturday May 18th 2019
Hi Tracy
I just wanted to send you a very big thank you for another wonderful day on Saturday! You are the most patient person and always so encouraging. I love your work and spending time with you in your studio is a real treat! I love our pendant we made! She's beautiful!
Lots of love,
Tina
Hammered Chain Bracelet workshop Saturday April 13th 2019

Thank you Tracy for another amazing day with you in the creative world. I'm sorry we worked YOU so ragged. I had a really great day and I look forward to when your next pendant workshop is running. I'm pretty sure Julie and Tina will also join me. They had a wonderful day too.
Jenni
Hammered and Textured Rings Workshop April 7th 2019
Hi Tracy,
When Paulina first suggested the workshop I agreed thinking it would be a fun day out with my team. Then closer to the time, I remembered I'm not that creative and actually not very good with making things!
Thank you for proving me wrong AND for someone who never wears jewellery, I am wearing my rings to work today and showing them off!
Yvette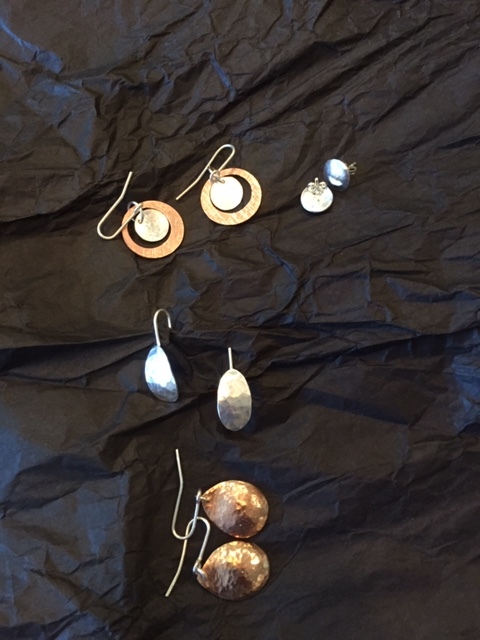 Hammered Earrings 30th March 2019
Hi Tracy
What a day I've had. Thank you so much for a great experience today. It is amazing what you can learn and make in a day.
I'm loving my new jewellery.
Thank you so much.
Love from Margie.
Hammered Bangles March 16th 2019

"It's a little bit rustic with a country feeling when you open the gate, friendly dogs and clucking hens lead you to Tracy's large and very well equipped studio. Our class was small and not everyone had previous experience with jewellery tools. But with Tracy's excellent teaching and helpful tips we each made a brass model and two hammered silver bangles, finished and ready to wear home. I hope to return soon for more jewellery making with this wonderful teacher. "
Cathy